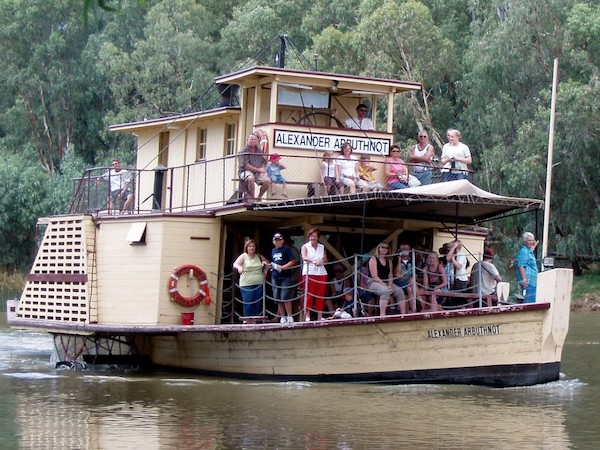 The Alexander Arbuthnot is special because it is an authentic paddlesteamer with its original steam engine.
Tonnage 46
Length 76 feet (22.8 metres)
Beam 15 feet 3 inches (4.57 metres)
Horsepower 10 HP
Draft 2 feet 3 inches, or about 0.67 metres
Engine Built by Ruston & Hornsby of England and was once used in an earlier boat called the Glimpse
How did she get her name?
PS Alexander Arbuthnot is so named after the former owner of the Arbuthnot Sawmills at Koondrook – Alexander ("Squire") James Cooke Arbuthnot.  His father, Alexander ("Sandy") Arbuthnot was the founder of the Sawmills.
What job did she do?
The hull of PS Alexander Arbuthnot was built in Koondrook by shipwright Charles Felshaw and in 1916 she began life as a barge.  It wasn't until 1923 when she was commissioned and then towed to Echuca for the fitting of engine, boiler and superstructure that she commenced her new job as a working steamer and for many years she towed barges laden with red gum logs from the nearby forests for the Arbuthnot Sawmills.
How did she do her job?
Her normal schedule was to tow two outrigger barges upstream from the mill, with two men to each barge.  She would drop them off at a landing where the barges would be loaded with logs and then floated, unaided by the steamer, downstream back to the mill.  Meanwhile, PS Alexander Arbuthnot would return to the mill, collect another barge and ply downstream to Campbell's Island where she would await the loading of the barge and tow it back.  Each barge was capable of transporting about 300 tons for red gum logs.
What happened after the river trade era?
PS Alexander Arbuthnot worked at the mill until the 1940s.  She was replaced by the PS Hero and onsold to charcoal producers at Barmah who used her to bring bagged charcoal to the Echuca Wharf during World War II.  In 1947, after the war ended, she became redundant and eventually sank.  A group of volunteers from Shepparton raised her in 1972 for use at the International Village Theme Park but in 1989, PS Alexander Arbuthnot was bought by the Echuca City Council for further restoration by the Port of Echuca. She was recommissioned in December 1994 and became the youngest boat to join fleet at the Port of Echuca.
What does she do today?
Today, PS Alexander Arbuthnot cruises daily at the Port of Echuca. She can carry up to 47 passengers and has over 25,000 visitors a year.
What is special about PS Alexander Arbuthnot?
PS Alexander Arbuthnot (or "AA" as she is affectionally known) is special because she is the last paddlesteamer to be built as a working boat on the Murray River during the riverboat trade era.