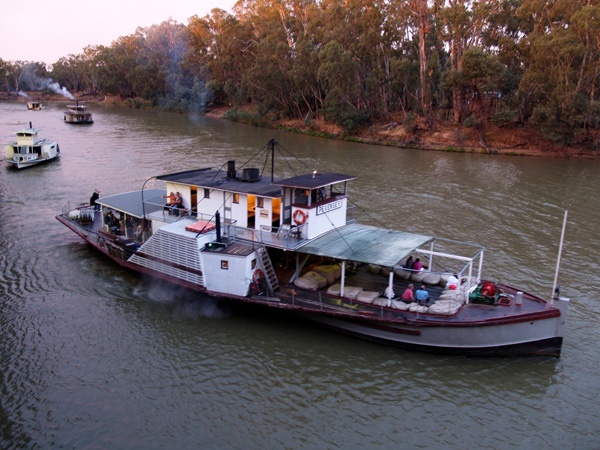 The Pevensey is special because it is an authentic paddlesteamer with its original steam engine.
Tonnage 130
Length 111 feet 5 inches (33.42 meters)
Beam 23 feet (6.9 meters)
Horsepower 20 HP
Draft 2 feet empty, 4 feet 6 inches when fully loaded, this is approximately 0.6 metres when empty and 1.35 metres when fully loaded.
Engine Built by Marshall & Sons of England. it is a 2 cylinder steam engine No 55721
How did she get her name?
PS Pevensey is named after a sheep property on the Murrumbidgee River called Pevensey Station.
What job did she do?
In the old days PS Pevensey carried 120 tons of cargo. The Pevensey collected bales of wool from station properties and brought them to the Echuca Wharf. At the Port of Echuca the wool was loaded onto trains and taken to Melbourne for shipping overseas.
How did she do her job?
Beneath the front and back decks there are large spaces called holds, in which the cargo is stored. The cargo can be piled so high that it is up to the wheelhouse. The Pevensey can carry 815 bales of wool and a total of 2000 bales when barges are towed along behind. The Pevensey's barge was called Ada. A tow line (rope) is attached to the front of the barge and then tied to the tow post at the top of the paddlesteamer. This enables the barge to be towed along behind.
What happened after the river trade era?
When the river trade ended the Pevensey was tied up at Mildura. It came to Echuca to be restored in 1973. Fixing the boat was no easy task – for the first year high rivers prevented much work being carried out. Each piece of new timber for the hull was matched against the original then cut to shape using an adze – a technique used by boat builders for centuries.
What does she do today?
Today trucks carry cargo, so the Pevensey works as a tourist boat at the Port of Echuca. The Pevensey is able to carry 100 people on each cruise.
What is special about PS Pevensey?
The Pevensey is special because it is an authentic paddlesteamer with its original steam engine. Today the Pevensey is known to people all over the world for its role as "Philadelphia" in the Australian television mini-series 'All the Rivers Run', made in Echuca in 1982-1983.